Why wipe off or launder your bibs when you can dispose of them off right after use? Get a pack of adult bibs today. Adult bibs are majorly used on and by adults to prevent the transfer of messes to the user's clothes.
In this piece, we are going to look at disposable bibs for adults, their functions, applications and why you should get yours today.
What Is a Disposable Bib?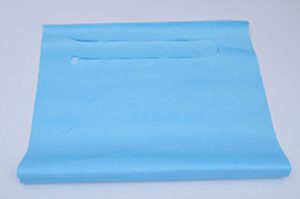 As the name suggests, these are bibs that are disposed of immediately after use. They serve the same function as any other adult bib except they are disposable. You just need to put it on your patient, do the required activity and once you are done take it off and dispose of it. Simple right?
These kinds of bibs are commonly made of two materials, paper and plastic. The paper part of it is the soft tissue like part whose main function is to absorb liquids that may spill on it. The same material plastic bags are made of. This material in the disposable bib gives it its waterproof ability. It is the part of the bib that prevents any liquid substance from transferring to the client's clothes.
There are different kinds of disposable bibs and each of them has its unique characteristics. There are the slip-on bibs, which as the name suggests you just slip it on. And there are also those that have ties which are to be tied behind the user's neck to secure it in position.
Functions Of Disposable Bibs
Disposable bibs have numerous functions, which include the following;
Prevent messes
The disposable bibs as discussed earlier aid to reduce messes during various procedures. They protect the patient's clothing: this ensures your client's Hygenic appearance is maintained. I doubt there is anyone who'd be comfortable walking out of a facility with their clothes all stained and dirty. Their waterproof property keeps the patient's clothing clean, stain-free and dry.
Prevents cross-contamination
Besides helping to reduce messes while eating, disposable bibs for hospitals are designed to prevent cross-contamination in healthcare facilities.
Save time
Disposable bibs are such a time saver. They come in handy if your practice or healthcare facility is a very busy one, or if you have limited help to assist in the cleaning of your bibs after every use. The disposable bibs do not need any services done to them after they are used. They don't require any washing. All you have to do after using them is to properly dispose of them, that's it. Another time-saving factor in using the disposable bibs is that they are very easy to put on, this saves you so much time as you are not required to spend a lot of time in putting them on.
Accommodate diverse patient needs
This is another major function of disposable adult bibs. They are designed in such a way that they can accommodate the needs of various patients. You see, adult bibs are mostly meant to be used in healthcare facilities. So today, you will a variety of disposable bibs, including disposable dental bibs, bibs for feeding the elderly, etcetera. Note, however, that you can also find quality disposable bibs for kids in the market.
Application Process Of Adult Bibs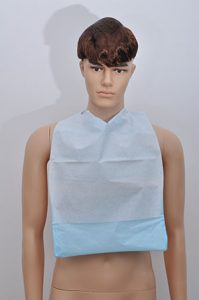 From the ongoing, disposable adult bibs have a raft of applications. They can be used on patients in medical institutions such as the dentist's office, hospitals, nursing homes, rehabilitation facilities. Disposable adult bibs can also be used outside the medical setup. For example, they can be used in homes to feed the elderly and in restaurants during meal preparations and by artists in their art and craft activities. And, of course, there are bibs for kids.
Today, there are many companies producing adult bibs today. Most have online shops from which you can order your pack today and have it delivered to your doorstep. Here are some common brands;
Care-De
Grant guard
Abena bibs
Care-De
Wipex
Medisave
It is, however, important to note that these products come in different types and quality. It is, therefore, necessary that you do some background research and know what exactly you are looking for before placing your order.
Regardless of where you work and what you using the disposable bibs for, they are a convenient accessory to have. It will save you a lot of time and effort and will leave your clients happy, and clean.