Panty Liners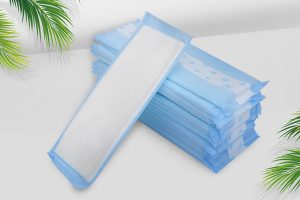 Panty Liners, also known as Sanitary Pads, are an absorbent item worn in the underwear by women who are bleeding after giving birth, recovering from gynecologic surgery, experiencing a miscarriage or abortion, or in any other situation where it is necessary to absorb a flow of blood from the vagina. Postpartum pads are popular among women who are pregnant.
The reason you need Care-De panty liners is that bleeding from your womb (uterus) will start soon after your baby is born. And our products are super absorbent pads, they can absorb the blood fastly. Postpartum Maternity Pads can prevent the infection effectively. What you need to pay attention to is that be sure to buy maternity pads, rather than ordinary sanitary towels. They are longer, softer, and much more absorbent.
The materials of Care-De Panty Liners contain Non-woven Fabrics, Fluff (SAP), Tissue, and PE Film. These maternity pads are often used in hospitals.
Why Choose Us?
Care-De is a Manufacturer specialized in the production of Panty Liners (Sanitary Pads) with various specifications and requirements. With excellent quality and reasonable prices, Care-De has won a great reputation from our customers.
If you are looking for a steady Panty Liner Manufacturer, Care-de is your ideal choice. Contact us now!
Showing the single result