Disposable Toilet Seat Cover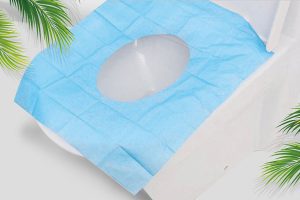 Care-De Disposable Toilet Seat Covers are made of 1-ply Tissue and 1-ply PE Film. They are suitable for children, adults, employees, customers, and patients.
It covers the sides and the front of the toilet to keep away germs and wetness. The large front flap keeps legs and clothes from touching the front of the toilet. The side flaps cover the sides of the toilet. Users just need to maintain their balance and keep their hands away from germs. These Toilet Seat Covers are very convenient to use.
The disposable toilet seat covers often used in Restaurant, Hotel, Hospital, Public Toilet, Home, etc. This is a must-have product for those who love a clean environment.
But you may ask, why to choose Care-De toilet seat covers?
Because we are a professional manufacturer of Disposable Toilet Seat Covers and raw materials. This point makes Care-De can provide the quality assurance and pricing advantage to the production and sales of the toilet seat cover. Our products sold well in Europe, USA, Middle East, Asia, South America, and other markets.
If you are looking for a steady disposable toilet seat cover supplier or manufacturer, Care-de is your ideal choice. Contact us now!
Showing the single result