Disposable Bed Sheets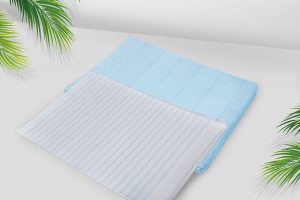 Disposable Bed Sheets are the ideal solution to protect and guard against incontinence and spills. This bedsheet is made from durable tissue and polyethylene film. Or non-woven fabric and PE film can make it. It is a non-woven material that is designed for single use.
Care-De disposable flat bed sheet is an economical choice for aiding in infection control. They are available in various sizes and colors. We also offer disposable pillow cases for maximum bed protection.
Disposable Sheets usually use in hospitals, doctors' rooms, frail care facilities, and other professional medical settings. Especially in areas where short stays and frequent bedding changes are routine. But our products mainly used to cover stretchers or hospital beds for examination. Also for beauty salons, nursing homes, hotels, SAP, etc. for hygiene.
Care-De is a professional manufacturer of disposable bed sheets. Our sanitary products sold well in Europe, USA, Mid East, and Asia. We have won a great reputation from our customers.
Meanwhile, we are also the manufacturer of raw materials, including PE Film and Hydrophilic Non-woven Fabrics, which provides the quality assurance and pricing advantage to the production and sales of the disposable Tissue/Poly bedsheets.
Are you looking for a steady Disposable Bed Sheets Manufacturer or Supplier? So, you are in the right place. Care-de is your ideal choice. Contact us now!
Showing the single result