Bibs Roll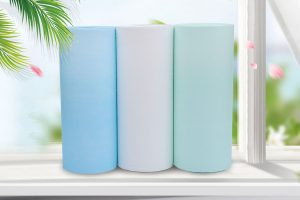 Care-De Bibs Roll is made of 1-ply Tissue and 1-ply PE Film. Our disposable bibs roll usually used in nursing homes or dental clinics. They protect patients' or adults' clothing from during an examination or cleaning or eating.
Features:
Multi-use and a variety of sizes.
Many color options available.
Comfortable, durable, and absorbent.
Bibs Roll is convenient to use.
Full Coverage & Premium Protection.
An absorbent front that soaks up liquids.
A waterproof backing that keeps liquids from clothing.
For adults, patients, or disabled people.
Great for hospital and nursing home or dental clinics.
Care-De is a Manufacturer that specializes in the production of disposable bibs roll with various specifications and requirements. Our products often used in medical, health care, and daily life, etc. Good news for distributors, dealers, and retailers, now buy bib rolls in bulk, you will enjoy more discounts.
Meanwhile, we are also the manufacturer of raw materials, including PE Film and Hydrophilic Non-woven Fabrics, which provides the quality assurance and pricing advantage to the production and sales of the Single-use Bib Rolls. It enables the product to be well-sold in Europe, the USA, Middle East, Asia, South America, and other markets.
If you are looking for a steady Bib Rolls Manufacturer or Supplier, Care-de is your ideal choice. Contact us now to get the lowest price!
Showing the single result