Couch Paper Rolls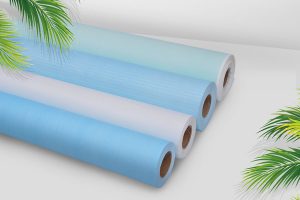 Couch Paper Rolls often used in hospitals, beauty salons, nursing homes, hotels, etc. The design of Couch Rolls is to provide a cheap and environmentally friendly approach to keeping surfaces clean and hygienic. They cover the examination table or massage bed to protect you from bacteria, germs, and contagions.
Care-De paper rolls are usually available in White, Blue and Green. These colors are common options. There are 5 conventional sizes (50cm x 50m, 50cm x 60m, 50cm x 100m, 45cm x 38m, 45cm x 68m) for your choice. Customize is available.
Care-De is a manufacturer specializes in producing Couch Paper Rolls with various specifications and requirements. We will try our best to meet all your needs. And we can give you the best price, but it also depends on the number of your purchasing.
Meanwhile, we are also the manufacturer of raw materials, including PE Film and Hydrophilic Non-woven Fabrics, which provides the quality assurance and pricing advantage to the production and sales of the Paper Rolls. It enables the products sold well in Europe, USA, Middle East, Asia, South America, and other markets.
Looking for a steady Couch Rolls supplier? Care-de is your ideal choice. Contact us now!
Showing the single result