Disposable Underpads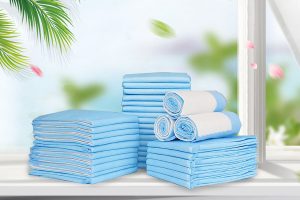 Underpads, also known as Chux, are super absorbent pads designed to protect the mattress or furniture from urine damage of incontinent patients. The disposable underpad is usually placed above the mattress, chairs, couches, wheelchairs, and more. It can absorb leaking liquid fastly to keep the user dry and comfortable for a longer period of time.
Disposable bed pads have become the standard in long-term care facilities and hospitals to protect patients (like bedridden patients, elderly patients, and paralyzed and coma patients.) and mattresses from urine damage. They work well on water absorption. Although the Disposable Underpads were designed to be used for adult incontinence to protect the mattress, these bed pads also usually for the nursing home or baby caring.
Care-De is a manufacturer specialized in the production of disposable underpads for incontinence with various specifications and requirements. Our products (disposable bed pads or called Chux Pads) can be used in medicine, health care, and daily life, etc.
Meanwhile, we are also the manufacturer of raw materials, including PE film and hydrophilic non-woven fabrics, which provides the quality assurance and pricing advantage to the production and sales of disposable underpads. It enables the product to be well-sold in Europe, the USA, the Middle East, Asia, South America, and other markets.
If you are looking for a steady disposable underpad manufacturer or supplier in China, Care-De is your ideal choice. Contact us now to get the best wholesale price!
Showing the single result