Disposable Bibs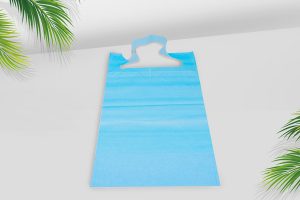 Care-De Disposable Bibs (also known as Clothes Protectors) to accommodate diverse patient needs. Our products have two types: Disposable Slip-On and Tie Style Adult Bibs and Paper Bibs with a poly coating on one side. Whether you work in a hospital, rehabilitation facility, long-term care center, or take care of an aging parent at home, adult bibs are a convenient accessory to have on hand. The bib features an absorbent front (1-ply or 2-ply tissue) and a waterproof backing (Polyethylene backside). When you wear the bibs on the chest to help protect clothing from spilled food or medicine, ensuring that clothes stay clean and dry. You know these bibs work pretty well.
These versatile bibs can help older adults to keep the messes to a minimum and protect clothing during mealtime. The paper bibs with a poly coating on one side for light protection from fluids as well as heavy-duty waterproof bibs to help shield clothing from bigger spills. They are lightweight and comfortable to wear, Care-De Disposable Adult Bibs allow older individuals or those with physical disabilities to enjoy a meal with dignity.
The disposable bibs for adults are also great for multi-use (for hospital patients and senior resident home or facility care). In addition to different materials, we also offer different sizes and lengths to fit your needs. Choose from shorter to longer lengths as well as different quantities. If you buy disposable bibs in large quantities, you will enjoy more discounts.
Why Choose Care-De Adult Bibs?
Care-De is a Manufacturer specialized in the production of disposable bibs with various specifications and requirements. With excellent quality and reasonable prices, Care-De has won a great reputation from our customers. Our products can be used in hospitals, nursing homes, dental clinics, beauty salons, etc. Ideal for use as adult feeding bibs and clothing protection for adults.
If you are looking for a steady Disposable Bibs Supplier, Care-de is your ideal choice. Contact us now to get a surprise wholesale price!
Showing the single result