Laminated Tissue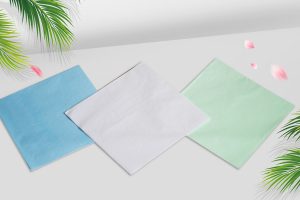 Care-De Laminated PE Tissue is made of Tissue and PE film (1-ply tissue + 1-ply PE film or 2-ply tissue + 1-ply PE film). We have two types of PE Tissue (With Hole and Without Hole) for you to choose, it depends on your needs.
The key properties of PE tissue paper are super absorbency, lightweight, thin, beautiful appearance, and comfortable.
Care-De specializes in manufacturing Laminated Tissue with various specifications and requirements. Our products usually used in hospitals or dental clinics.
Meanwhile, we are also the manufacturer of raw materials, including PE Film and Hydrophilic Non-woven Fabrics, which provides the quality assurance and pricing advantage to the production and sales of the PE Coated Tissue Paper. It enables the product to be well-sold in Europe, the USA, the Middle East, Asia, South America, and other markets.
If you are looking for a steady PE laminated tissue manufacturer, Care-de is your ideal choice. Contact us now!
Showing the single result