Worried about the cleanliness of your bedsheets? Why not get a pack of disposable bed sheets and forget about laundering your sheets altogether? Eco-disposable bed linen is becoming popular today, especially among healthcare providers. It is clean, easy to use, and gives users peace of mind.
In this piece, we are going to look at the features, applications, and various brands of disposable bed sheets. But before we get into that, let's have a quick look at some basics.
What are Disposable Bed Sheets?
As the name suggests, disposable bedsheets are those that you can dispose of when necessary. They are biodegradable, which means that you don't have to worry about destroying the environment. Just pop the used sheets in the compost and move on with things.
These sheets are easy to put on, as well as remove from the bed. They're thick enough to protect your mattress, and they save a lot of effort and time in the morning. Their major advantage, though, is the fact that they're compostable, which means you do not have to worry about washing them. Just use and dispose of.
Disposable bed sheets provide a versatile and highly cost-effective solution while still assuring optimum comfort and hygiene. They come in various sizes and are often white so they will easily go with the rest of your room.
The Construct of Disposable Bed Sheets
The construct of disposable bed linen depends on the materials a manufacturer uses. However, most manufacturers use soft, non-woven, biodegradable materials to provide optimum comfort. Some manufacturers use Tencel fiber from eucalyptus trees. Others use hydrophobic spun-bond polypropylene, a substance that's not only soft and comfortable but stain-resistant as well.
Disposable hospital bed sheets are specially designed to not only provide comfort but assist in infection control. Their construct also helps to reduce cross-contamination risks that come from laundering linen. Most good-quality hospital bedsheets are hypoallergenic, free from chemicals like dyes and bleaches, and remarkably soft.
Features of Disposable Bedsheets
While anyone can use these products, they are more popular in healthcare settings. Therefore, many manufacturers design them to suit the needs of caregivers and patients. Here are some of their common features:
Hypoallergenic and chemical-free
Eco-friendly. The materials are biodegradable
Compostable
Beautiful and attractive design
Skin-friendly
Soft and comfortable
Lightweight
Stain and spill-resistant
Fully hygienic
It is also worth noting that some brands come with an option of sterilization. Some even have name and logo printing options.
Applications and Functions of Disposable Bedsheets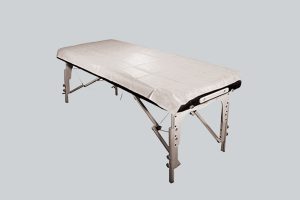 As mentioned earlier, Disposable Bed Linen is everyone. However, they are mostly used in hospitals and other healthcare centers. The sheets assist in reducing cross-contamination risks and infection control. They also protect against spills and stains. This is why they are ideal for medical settings, especially areas where short stays are routine and require frequent bedding changes.
In healthcare facilities, the sheets are mainly used to cover hospital beds, stretchers, surgical beds, and in doctors' rooms. They're especially great for people with moderate or heavy incontinence.
Some common brands of disposable bed linen include:
Care-De
MediSave
Beantown
YiHub
Wipex
These brands, among others, have a wide range of disposable bed linen; from hospital bedsheets, stretcher sheets, to bed sheets for examination in healthcare facilities. However, as the products come in different qualities and designs, you might want to do some research before placing your order.