Did you know that up to 9% of the world's population suffers from at least one form of incontinence? Statistics (GFI Forum Data) show that today, about 423 million people across the globe have urinary incontinence. In the U.S alone, 33 million people have OAB (overactive bladder). OAB is among the common types of urinary incontinence. As these numbers continue to increase by the day, the production and use of disposable adult diapers have become more prominent.
And, in fact, the use of adult diapers is among the effective incontinence treatment options available today. Read through to discover what the best adult diapers out there. You'll also find out what to consider when purchasing an adult diaper.
What's the Best Adult Diaper?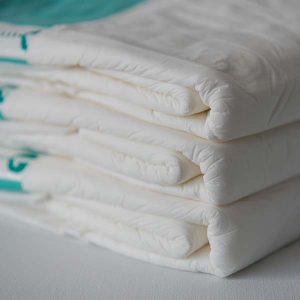 There are so many adult diapers on shelves today. Finding one that works best for you can, therefore, be quite a task. To help you out, here are the top three adult diapers that you should consider buying. Our selection is based on website reviews, top consumer searches on the topic, and interviews with customers.
1. Care-De Adult Diaper with Tabs
This absorbent product is suitable for both men and women. Its high absorbency keeps the user's skin dry and protected for a long period.
Some of the critical features of this product include:
Perfect leak-proof protection
Super liquid absorption, as well as retention capacity
Odor elimination
Bacterial growth control
Since the brief has tabs, it offers adjustment flexibility. You can easily adjust the fit at the legs and waist openings to completely eliminate leakage. Another strength of this product is its odor reduction feature. Its inner core absorbs moisture quickly, trapping it away from the skin. By absorbing urine quickly, the odor is neutralized and controlled.
Care-De Disposable Adult Diapers offer a safe and comfortable way to control the effects of incontinence.
2. Tranquility Slimline Disposable Brief
This is another top-in-class comfortable disposable adult diaper. It's a high performance, high capacity brief. It has very little padding on the hip sides, making it undetectable under clothing.
The diaper is designed for daytime use. It, therefore, comes with super liquid absorption and high capacity. Its tabs at the waist and leg openings allow easy adjustment for a snug fit. This is key to leak control.
The brief comes in different sizes- from a 20" waist size to a 60" waist size. Its capacity varies with size.
Other Tranquility Slimline Adult Diaper features:
Odor Reduction
Excellent leak-proofing
A discreet fit
Super absorption
3. New Tena Classic Plus Briefs
This disposable brief comes with a flexible design offering moderate and heavy protection. It is designed for both bowel and urinary incontinence. It also offers a discreet fit. Its hook-tab fastening system allows unlimited re-fastening for a secure and comfortable fit.
Key Features Include:
Excellent Absorption for moderate to heavy protection
Hook tabs that allow refastening
Perfect leak-proofing
Odor reduction
This product is also available in a range of different sizes.
What's the Material of Adult Diapers?
There many different types and styles of adults diapers. Therefore, the material used in making them also varies. However, most products have either a plastic back or a breathable material. Here are two common materials that make up most adult diapers;
Polyacrylate granules and Cellulose fluff pulp
Manufacturers use these materials in the absorbent core of the diaper. The cellulose fluff absorbs liquid and passes it to the polyacrylate material where it is trapped. The materials keep the user's skin dry even when the brief is full.
Superabsorbent polymers
Absorbent polymers are used in the acquisition and distribution layers of the diaper. They absorb liquid and distribute it evenly across the diaper.
The top sheet of most adult diapers is designed with a porous material. The material allows for quick liquid absorption. Some top sheets also have lotion and other skincare products to lubricate the skin.
Styles of Disposable Adult Diapers
Adult diapers come in different styles. The most common ones include:
Pull-ups: Pull-up style adult diapers go higher up the waist and provide full absorbent coverage. Pull-ups feel like regular underwear when worn. A pull-up diaper doesn't have tabs or fasteners, and one can literally pull it up and down. It's best suited for people with active lifestyles.
Tab-style Briefs: Unlike pull-ups, tab-style adult diapers are secured on the sides by tape tabs. They are easier to put on and take off when taking off your pants and shoes isn't ideal. Briefs are often more absorbent than pull-ups.
Belted Diapers: These are designed for an individual that needs a product heavier than a pad, but not quite ready to use a full-blown diaper. They offer good coverage and a breathable feel. These products have belts at the top for adjustment to different sizes.
Other types of adult diapers include plastic-backed diapers and cloth diapers.
What Does the Best Adult Diaper do?
The best adult diaper should, among other things:
Give you the comfort you need
Be highly absorbent and not allow any leakages
Absorb as much liquid as possible with allowing leakages
Keep your skin dry and healthy
Fit properly
Reduce or eliminate odor
There are many good adult diapers on the market. However, the three diaper brands discussed earlier are definitely top of the list.
Adult Diaper Buying Guide: What to Consider Before Purchasing an Adult Diaper
Before buying an absorbent product for incontinence effects, consider the following factors;
Size and Fit
To effectively manage leaks, don't buy a diaper that is too small or too large for you. Also, note that some diapers offer more discretion than others.
Absorbency
The severity of your incontinence should dictate the extent of absorbency you require in a diaper. This is important for leakage protection also. Do you need light, moderate, or heavy protection?
Odor Elimination
Of course, you don't want to smell like urine. Most disposable diapers come with the odor emanation or reduction feature.
Comfort
Whether you'd prefer a plastic-backed or a cloth-like diaper, comfort has to come first. Be sure to get a product that will feel right and give you comfort.
Other important things to consider include price, dry technology, closures, your current skin health, and mobility.