Market Overview
The global disposable bibs market has been growing at a significant Compound Annual Growth Rate (CAGR) in recent years. This is largely attributable to their steadily expanding scope and applications across the globe. Disposable bibs are available in the market in a wide range of materials, shapes, and sizes. Some of the factors that are propelling the growth of the disposable bibs industry include product development and technological innovations, increasing demand, and rapid industrialization and urbanization.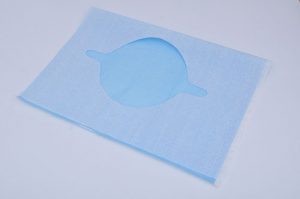 Other factors the contribute to the market growth include growing organized retail in developing countries, changing standards of life and rise in disposable income. However, factors such as falling birth and fertility rates tend to hamper the market growth. The disposable bibs market is mainly classified on the basis of product material, type, age group, geography, and distribution channel.
What is a disposable bib?
A disposable bib is a cloth or tissue portion with PE backing that is mainly used to avoid water, food, and other substances spilling on the user's clothes. Although bibs are usually associated with babies, it is interesting to know that they are used by adults as well. Bibs are an important part of a baby's accessories and daily routine but it's a common scenario that adults including sick and old people often need disposable bibs for helping and supporting them in their regular activities.
Types of disposable bibs
Tie-style bibs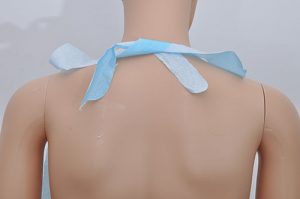 Tie style bibs are also commonly known as bandana bibs mainly because they are usually modeled on the bandana. Tie-style bibs are usually folded in half and then tied around the neck. They are great for babies who are dribbling a lot or teething because they resemble an item of clothing. They usually sit around the neck and are designed to absorb a lot more dribble than ordinary bibs. However, they may not
protect clothing as much as cover all disposable bibs. Care-De takes this factor into consideration and produces bibs of different sizes to meet the needs of different users. Especially for the elderly.
Slip-on bibs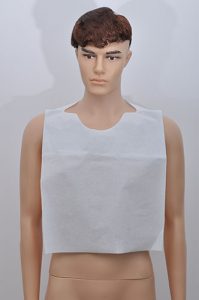 These disposable bibs usually cover all of the user's upper body. Slip-on bibs are plastic bibs that look like jumpers. These disposable bibs are great for older adults or kids who know how to feed themselves.
Applications of disposable bibs
Dental clinics
Dental disposable bibs are used as a preliminary barrier against stains and contamination. They are used to protect both dentists and patients from spills and stains during dental procedures. Therefore, even if something is spilled on the patient's chest, the bib protects their clothing. Dental disposable bib is typically made of two layers; the top paper layer absorbs any type of spills and the bottom layer of plastic prevents liquids from penetrating the disposable bib.
Dental disposable bibs are available as individually packaged bibs, pre-cut bib rolls, or as bib napkins.
Restaurants
The other common area where disposable bibs are prominently used is in the hospitality industry, particularly hotels and restaurants. They are particularly necessary for restaurants that serve seafood such as lobsters, crawdads, slippery ribs and crabs. These foods often result in getting the hands dirty and wearing a disposable bib while eating can help you stop worrying about soiling your clothes. Therefore, you can "dig in" to your food without worrying about the possibility of messing up. It is important to note that even the most coordinated people sometimes get stains or spots while eating.
Hospitals and nursing homes: the elderly and disabled
Disability, injury or illness can make it hard for patients to control their limbs especially the fingers and hands. This is where grown-ups come into play. Bibs are also very prominent and necessary especially in restaurants that serve seafood.
Babies:
Babies drool all the time and one of the main basic requirements for your kid is keeping them clean. However, you should note that drooling is part of your baby's normal growth. Disposable Baby Bibs have proven to be quite important when babies start teething. Disposable baby bib can preserve your baby's clothes from the wash cycle until its necessary.
Moreover, there are various different types of disposable baby bibs available in the market these days. Therefore, keeping your baby's hygiene and comfort in mind, you can easily choose the baby bibs that are most suitable for your baby's specific needs.
Best Disposable Bibs Brands on the market
1. Care-De Disposable Bibs
Care-De is a professional Disposable Bib Manufacturer. That is why you couldn't see the brand on the market. But our products are high-quality and cost-effective and sold well in Europe, USA, Mid East, and Asia. Maybe the bib you are using is what we produce. At present, we only accept a large number of purchases and don't do retail business. If you want to wholesale single-use bibs, contact us now to get the surprise price.
2. Bibsters Disposable Bibs by Neat solutions (48-count)
Bibsters disposable bib is designed to keep the baby neat, dry, and comfortable whether you're on-the-go or at home. They are large and usually come in 4 packs of 12. They are also practical for travel especially for people who may not have access to a washer. It features an absorbent triple layer with a leak-proof bottom layer, absorbent middle layer and cloth-like top layer to keep clothes dry and clean. This is the perfect gift for new parents. It comes with a large stay-open pocket that catches spills and crumbs effectively.
3. Munchkin Disposable Bib
These disposable bibs are handy and ideal for home or travel. Munchkin disposable bib features a leak-proof liner that prevents spills from leaking through to the clothes. The adhesive fastener makes them very easy to use.
4. Mighty Clean Disposable Bibs (24-count)
Mighty Clean disposable baby bibs have a comfortable shape and design. They also feature adhesive tabs that allow you to easily customize the fit. The large crumb catcher pocket helps keep clothes clean by protecting them against spills and crumbs. Mighty Clean disposable bibs are ideal for on-the-go parenting and you can keep the small packages in the diaper bag, car, or even in your purse.
Care-De Disposable Bib is also ideal for art projects that mainly involve glue, paint, and other untidy materials. Disposable bibs help prevent food wastage, cloth staining, and skin rashes. Moreover, the single-use bib is easily available in the market both online and in local stores. Disposable bibs are also cost-effective and help save money in the long run by protecting clothes from stains. When buying baby bibs or adult bibs, it's always important to choose a quality product to help ensure better safety and health of the skin.