What is a disposable Underpad?
Disposable underpads (disposable bed pads) are available with disparate color PE backings (mostly green or blue). They are created using a similar material like other disposable chair pads or bed sheets. Disposable underpads are generally available in a single absorbency; however, absorbency could vary in regards to different pad makes.
Some designs could sport tuck in wings which maintain a sturdy hold on your bed. This disposable bed pad could be used below the sheets for additional protection during the night.
Features of a disposable underpad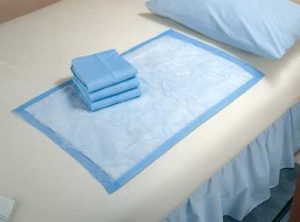 As the name indicates, this product offers a onetime utility, and you can find them in various construction sizes and types. They usually have the waterproof PE film for its bottom, the middle layer is made for absorbing liquids, and its top layer is designed from a comfortable and soft material. Its middle layer comprises of a glut of tissue for absorbing fluids.
Since the upper part of these units will come in contact with your body, manufacturers utilize materials like cotton which deliver more comfort when utilizing a disposable underpad. Moreover, you will also notice the tear-proof spun-bund material or pieces of tissue on the top sheets which enable movement without any worry of pad ripping.
There are other disposable bed sheets which have top sheets connected to the bottom plastic layer by use of the adhesive. There are others with rolled and glued double sides to make sure the fluid sips out through the side when the pad overfills. This process is known as channeling and pads that adopt this process are more absorbent than other underpads in the market.
Functions of a disposable underpad
Disposable underpads are highly absorbent pads made for mattress protection from urine damage. The pad is put under or above the linens; then it absorbs the leaking fluid. Disposable underpads are becoming common in long-haul care facilities as well as hospitals for furniture and mattress protection from urine damage and minimize linen laundry.
Disposable underpads are also utilized under commodes. Commodes are the bedside and portable toilets. Underpads are suitable for floor protection under the commode.
Moreover, if you are driving your kids on a journey, it would be prudent to use disposable underpads for protecting your automobile. Seat replacement in your car is more onerous than laying down a disposable underpad.
A lot of experts recommend disposable underpad utility as a clean and straightforward to use cover at a baby diaper changing station. It is smooth, sterile, and soft; therefore, your baby is safe from touching murky surfaces.
Additionally, in case you are experiencing a light leak in your kitchen pipes or refrigeration drips, disposable underpads are the most significant short-term solution for absorbing light leakages. There are also useful for your garbage's bottom can or for carpet/floor protection during painting.
How to choose the best disposable underpads?
Needed absorption
Absorption is the water-absorbent polymer concentration and amount within the underpad. More polymer concentration and more polymer imply more absorption ability. Bigger pads may not usually have additional polymer absorption; therefore, you should opt for the disposable underpad in regards to its absorption ability and not the only the size.
Backing sheet PE film as well as its disparate utilities
Disposable underpads with polypropylene backing are ideal for changing pads or temporary utility. On the contrary, the breathable pads are for long-term utility. It prevents skin drying and prevents breakdown and irritation. Breathable pads are perfect for healthy skin.
You could opt for the air-permeable underpads for optimal dryness or air bed utility when the skin is already breaking down.
Size, color, and strength of the backing sheet
Your pad also has to go past the area of containment by about 10 inches on both sides. The color will depend on your preference; however, some companies use color for indicating the capacity of absorption as well as the backing strength. Sturdy backing of a disposable pad is ideal for patients who may have to be moved and put 0nto the pad.
How to apply a disposable underpad?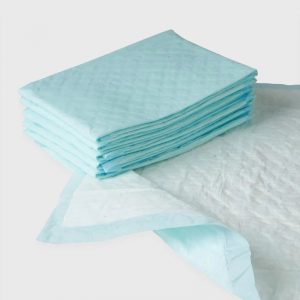 Underpads are put on the area or bed of furniture where you will be sitting or laying down, then unfolded from the center. The underpad is unfolded then opened out for covering several inches past the place of contact. For example, if you are lying on the bed, you should place the pad in a way that every side of your body is about 6- 10 inches from the edge.
You should place the underpad below your pelvis just under your lower back to where your pad extends out below your mid-thigh.in regards to the rating of absorption. Your bed pads will hold then lock in the urine while ensuring your skin remains dry. Periodically take a look at the moisture level and follow the manual's instruction to know whether the pad is fully saturated.
Who might need to use disposable underpad?
People who have problems with their bladder and cannot control urine release should opt for disposable underpad. Most of these underpads will ensure they have a good night sleep and promote skin dryness.
If you also have babies around the house and you want to protect your furniture from urine damage, then you should get a disposable underpad. Underpads will also protect seats in your vehicle from stains. People with light water leakage in their house and who are looking for a cover for diaper station should also get a disposable underpad.
What are the best disposable underpad brands in the market?
1. Care-De Single-use Underpads
As you know, Care-De is a superior disposable underpad manufacturer. Our products sold well in Europe, USA, Mid East, and Asia. We have won a great reputation from our customers. It's important to note that we only accept bulk purchases because we are not a retailer.
2. Prevail Fluff Incontinence Underpads
They have a bonded construction for preventing bunching or separating. They also possess an excellent absorbent material which could be put anywhere. Moreover, they possess a poly backing for preventing wetness from soaking through and helps the pad to maintain its position.
3. Attends Premier Underpads
These underpads are made with an incredibly high absorbent material which offers severe to heavy incontinence protection. This long-lasting item could also work as protection on the recliner, couch, or bed.
Conclusion
The most suitable underpads are those which you barely notice are present. Since they rarely have messes. The Care-De high-quality disposable underpad allows you to breathe well, reducing night sweat complaints and overheating. Disposable underpads are great for keeping you dry and offer protection to your mattress and furniture from damage from liquids.
If you are looking for a trusty disposable underpad manufacturer, you are in the right place. We can provide high quality and low price products you want. Contact us now to get a free quote!