Research shows that we spend nearly a quarter of our lives on our beds. However, spending a night on a wet bed can be disastrous. A moist bed is uncomfortable and can make you develop sores. Bed pads are suitable to make your life comfortable while sleeping by draining body fluids from your bed.
Incontinence underpads are pads that absorb body fluids such as urine for people who cannot manage their bowels and bladder. Most pads are attached to the underwear. Incontinent pads work in a similar way as napkins by absorbing urine and retaining it the moisture without leaking it. Changing pads as soon as they get wet is perfect, but most pads have indicators that show when they are wet. Every bed pad has an acquisition layer that allows the passage of urine to the inner core of the incontinence pads. The inner core comprises an absorbent material.
There are several reasons why people use incontinence pads. Some of these are the reasons why people use them are:
Bladder problems arise from various health complications.
Bladder weakness resulting from giving birth.
Damage to the muscles and nerves around your groin.
Post-operation problems result from such ailments as cancer.
How to select Incontinence Bed Pads
1. Absorbency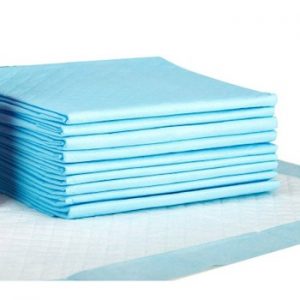 Depending on their design, incontinence bed pads have different absorbent rates. It would be best if you looked for bed pads that offer perfect protection through the day or night. The absorption rate of your bed pads depends on the amount of fluid leakage and the frequency at which you change the bed pads. More leakage means purchasing an incontinence bed pad with heavy-duty absorbency capability, which can be slightly expensive. The rate at which you change the bed pads has a significant impact on the choice of the pad. The more frequently you change the incontinence pads, the more pads you need to purchase.
It is advisable to change incontinence products twice or thrice in a day, and if they require changing more than thrice, it is fine to change the brand or go for pads with a higher absorbency level. An adult can excrete an average of one cupful of urine once, and most Incontinence Underpads can hold several cupfuls and absorb it with quite some good speed before bed sheets become wet.
The absorbency level of underpads depends on the fluff material that makes the pads. The more the fluff material the underpads contains, the higher is the absorbency level.
2. Size
Underpads are handy for use in various places like; car seats, tables, chairs, and bed. Consider taking measurements of the location you intend to use the pads. The pads you use for the bed will vary in size with the ones you use on your car seat. You will need to determine the size of your bed accurately.
Here are the regular sizes:
17″x24″ (40x60cm)
23″x24″ (60x60cm)
23″x36″ (60x90cm)
30″x30″ (75x75cm)
30″x36″ (75x90cm)
17″x27″
Customize available
3. Skin health
If you have skin allergies and other bedsores, airflow back sheets can offer the best choice for your problem.
4. Type
The type of pads also matters to you while purchasing. The various types are as follows.
Disposable Underpads/Chux Pads – they come in various sizes and absorbent levels. They have the following features.
They are temporary mostly for pets training.
The underpads are convenient while traveling since you use and dispose of them cutting on laundry costs.
The high dry technology associated with disposable underpads protects bedridden patients from sores that would otherwise result from moisture.
Disposable bed pads eliminate the odor that would result in yeast and bacteria.
Reusable/Washable Underpads also have different absorbent levels, and they are popular among pet owners and caregivers. Reusable underpads have the following features.
Reusable pads stick to a fixed position reliably unlike disposable underpads which crease and fold and even move out of place.
Washable incontinence pads are cheap in the long run since you do not need to buy a new one after using it. You only need to wash underpads after every use.
Washable underpads help minimize landfills since you can use them several without disposing of them.
Airflow Back Sheets – They are designed for patients with a high risk of developing skin sores. They provide excellent air circulation through a breathable back layer.
How to choose Incontinence Bed Pads Supplier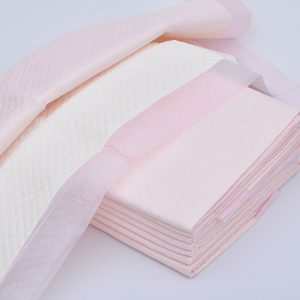 Choosing the right supplier or manufacturer can also save you lots of trouble that comes with buying from unreliable vendors. Such concerns that can arise from purchasing from untrusted vendors include side effects like irritation. Leakage of urine from low-quality products is also a challenge and therefore looks for the following while choosing a supplier from China.
1. Certifications and manufacturers label
Make sure that Incontinence Bed Pads contain tags that act as proof of certification to operate in the industry. Make sure the manufacturer adheres to the set guidelines and standards from the product labels. Nowadays, it is particularly essential to check the compliance of a product with environmental standards.
2. Company distribution channels
Check for a company that has perfect distribution channels that will help you have pads any time you need them. A company that experiences shortages might not be reliable, and you may end up experiencing stock-outs when you are in dire need.
3. Referrals from friends
You can obtain critical information about different single-use bed pads manufacturers from friends who have experience. If you are a beginner, you need to consult several people and make a comparison of products from various suppliers.
Other Uses Of Disposable Underpads for Incontinence
Baby Caring – Many people use underpads in baby cribs and as diaper changing stations for kids because they are easy to clean. You can also use underpads on the laps while holding the baby.
Incontinence for other fluids – Disposable Underpads are excellent for protecting surfaces from other body fluids. Such fluids like blood from mothers who give birth at home can be handled well by using underpads. Wheelchairs also make use of underpads for covering their surfaces.
For Plumbing – Plumbers use underpads to keep their working spaces dry.
Pet Care – You can also use disposable training pads to maintain the cleanliness of your pet houses. Pads offer a soft place for ailing pets where they can recuperate. You can also use disposable pads to design a training house for your pets.
Recommendation
I recommend you try incontinence products if you have infants, elderly and sick persons who need intensive care because they are bedridden. Reusable and disposable bed pads are better compared to napkins and offer the best convenience you need. Make a point of going through the above tips, and you will enjoy the value of your money.